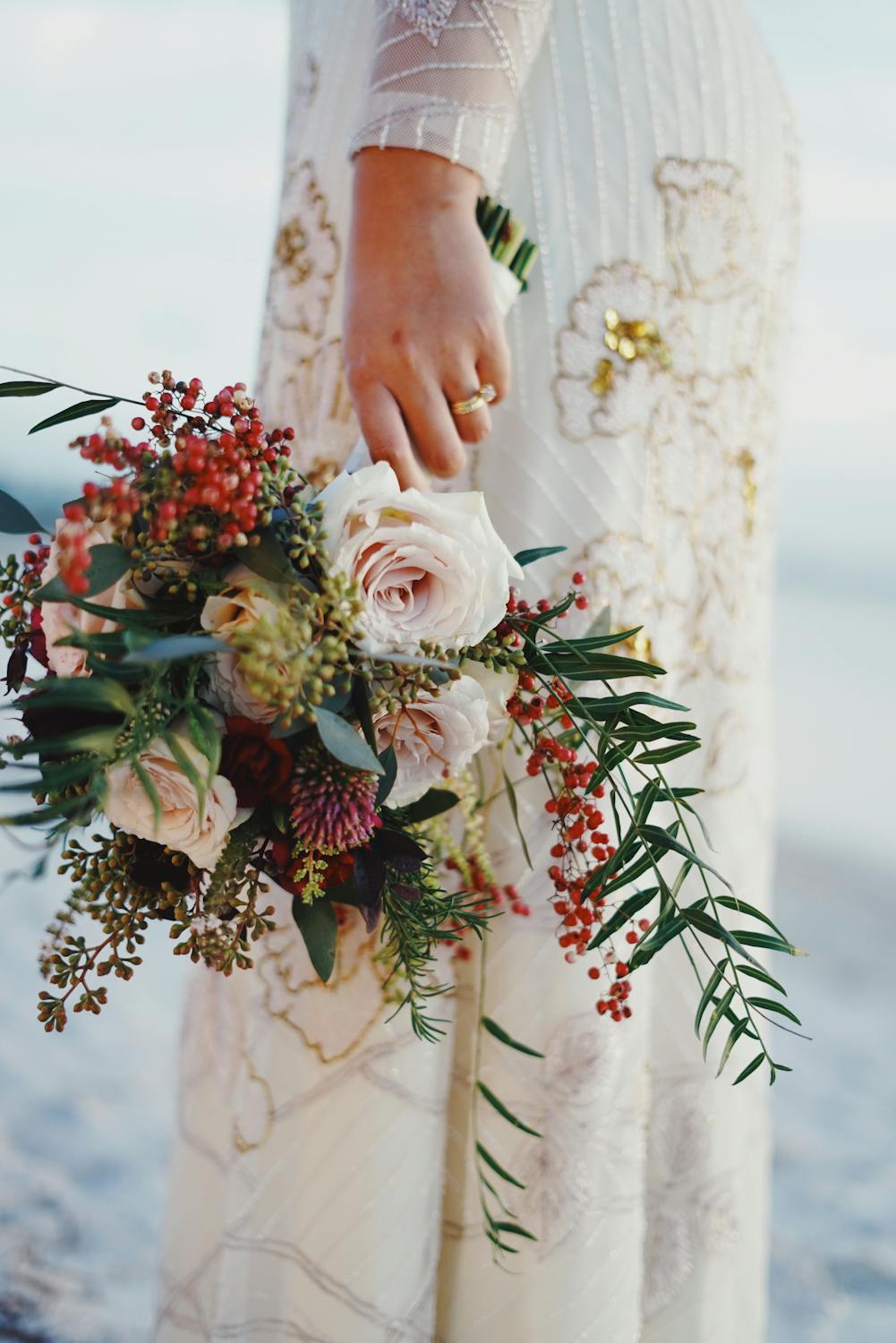 The right floral designer and flowers will lend a breathtaking touch to your wedding! Choosing a florist entails more than you might think. Since cut blooms are so delicate and perishable, they require skillful handling. Without timely transport and climate control, tender blossoms soon shrivel and wilt. 

A responsible florist will help you select the best flowers to complement your celebration. They'll also take steps to promote flower longevity throughout your wedding day. 

Finding such a dedicated vendor requires some interviewing. Once you've narrowed down your options to the most promising florist, ask the following questions. If the answers to the first two are favorable, continue with the list. 

If not, follow this process until the right florist clicks. The time you and your honey invest will be worth it, ensuring the gorgeous blooms you seek. 
Can you work with our budget?
Wedding planners recommend allocating 8 percent of your total event budget for flowers. If you're thrilled with the company's website portfolio, but the prices are too steep, ask if the designer can accommodate your budget. 

Discuss your floral needs based on the size of your bridal party, number of tables at your reception, and floral decor for your chosen venue. Then, state the amount of money you've earmarked for flowers. 

If your funds don't cover the cost, perhaps the designer can recommend other varieties or designs. Some florists offer packages, which can make services more affordable. 

By presenting your budget up front, you'll know whether to proceed with this particular vendor. You may also find that your expectations aren't realistic and you need to modify your original plans, scaling back here and there. 

Avoid getting into a financial jam, like some couples. By ignoring their inner warning bells, they end up overspending. While your wedding day is a momentous celebration, you don't want financial strain looming over your new life together. Maintaining this perspective will help you stay within budget. 

From Brides, here's a rundown on the average cost of wedding flowers and ways to trim expenses. 
Can we see live examples or photos of your designs?
By viewing the florist's previous work, you get an idea of whether they share your taste. If what you see is appealing, then you know the designer can duplicate it. While evaluating past designs, ask whether they reflect the florist's style or the vision of the engaged couple. A designer's signature style reveals their particular talent and expertise. 

You can also ask if the florist works in a style you'd like, such as European, Oriental, trendy, modern, traditional, classic, natural, or glam. Bring a photo or magazine, showing what you envision. 

What's your opinion of the flowers we have in mind?

While sharing your floral preferences regarding color, size, and type, be open to the designer's professional viewpoint and experience. 

When considering flower options, there are several factors to weigh. Ideally, the blooms should suit your wedding style, color scheme, and budget. Regarding flower longevity, take into account these elements: 
season of your wedding
outdoor climate
sun exposure
indoor versus outdoor event
expected photo session length
time gap between your ceremony and reception

If your wedding is slated for summer, consider heat-resistant flowers, such as dahlias, calla lilies, carnations, orchids, birds-of-paradise, zinnias, lavender, anthurium, freesias, and sunflowers. Other hardy candidates are chrysanthemums, Peruvian lilies, daisies, poms, and protea. For a visual point of reference, see these photos. 

Conversely, flowers to avoid are hydrangeas, peonies, roses, tulips, daffodils, and anemones. Their tender petals can't tolerate direct sunlight and high heat. If these varieties have special meaning for you and your honey, use them in water-fed centerpieces rather than bouquets. 

If you don't have preferences, ask what varieties are in season during your wedding month. The florist can also make suggestions for coordinating the blooms featured in your boutonnières, bridesmaid bouquets, and centerpieces. 
Where do you source your flowers?
Knowing how a florist procures their stock is important since it impacts flower availability, freshness, quality, and cost. 

Retail florists have four options for obtaining cut flowers. Most florists buy their stock from local wholesalers and growers. Others attend flower auctions, and a minority of florists grow their own. 

Availability 
If your florist relies on local growers and you want out-of-season flowers, they may not be available. In that case, the designer can import them from international auctions and markets, the largest being in the Netherlands, Holland, Canada, Dubai, and Japan. 

Freshness 
Imported flowers are less fresh than those grown locally. Once flowers are cut, they immediately start deteriorating. When blooms travel long distances in airplanes, their lifespan shortens by one to two days. Part of the reason is that cargo holds aren't always cool. 

Quality 
Florists who obtain stock from local markets hand-pick the choicest blooms. Such professionals are typically early risers, waking up around 4 am. Prompt arrival ensures access to the highest quality flowers. 

Another factor affecting bloom quality is market transport. When florists obtain their flowers locally, they can choose to haul them in refrigerated vans. So, along with asking about flower source, find out how they're transported. 

Cost 
Many florists import out-of-season and tropical flowers from South America, Ecuador, Colombia, and South Africa, where the climates are warm year-round. However, you'll pay more for such choices. 

Once you've decided what to order, ask the designer if they can do a "mockup," a customized sample. You can request a mockup of a bouquet, centerpiece, or any other floral element of your wedding. 

Mockup policies vary by florists. Most designers don't charge for mockups if your total order meets a specific minimum cost. Some florists charge an additional fee. Unless you trust the florist implicitly, it's worth the investment, to avoid possible disappointment. 
Will you do the flower installations?
First, inquire whether the company has previously done weddings at the site of your ceremony and reception. If so, they'll be familiar with the layouts and any restrictions on decor type and installation. If the sites are new to the florist, ask them to speak directly with venue personnel, ensuring compliance. 

If you plan on having flowers moved from a house of worship to a venue, can the florist transport them? Who will install the flowers, the florist or venue staff? Either way, provide a diagram of where the flowers should go. 

Also, ask the time of flower delivery and how long setup will take. Then, convey this information to the venue's wedding planner, responsible for coordinating the various vendors on site. 

Note that flower delivery should be expedient, to prevent wilting. Even with venue air conditioning, bouquets should arrive about 30 minutes before scheduled photography. Hopefully, the florist will use a climate-controlled vehicle. Full-service vendors may go the extra mile, pinning boutonnières on the groom and groomsmen! 

If you'd like to decorate your wedding cake with flowers, ask the florist if they'll work with your cake designer. Note that cake flowers may incur an extra setup fee. 
Will you handle installation breakdown?
Discuss whether the florist will dismantle and remove the arrangements when your reception ends. This service will likely cost extra. However, this convenience spares you from having to make other arrangements. If you're renting arches or other accessories, find out if you're responsible for their return. This detail will also be written into your contract. 

At your event's conclusion, you can opt to keep the flowers. However, since you must return the containers holding them, you'll need to make special arrangements for further display. Some couples re-purpose their flowers for a post-wedding brunch. If you'd like to keep the original containers, paying the fee, include this detail in your contract. 

If you want some bouquets preserved after the wedding, ask the florist if they can assist you. 
Wow-Worthy Flowers
Now you're an expert on ordering wedding flowers! You'll likely stay within budget and choose durable blooms that will smile brightly, day and night. Having selected a reputable florist, you know the flowers will be handled carefully and delivered at the optimal time. 

You're also clear on who will install and dismantle your arrangements. Being so well-informed, communicative, and proactive, you can have confidence in a smooth outcome. 

Does the prospect of seeing your sweet blooms give you goosebumps? While tending to your other wedding plans, hold that image in your mind's eye. It'll keep you and your loved one sane!