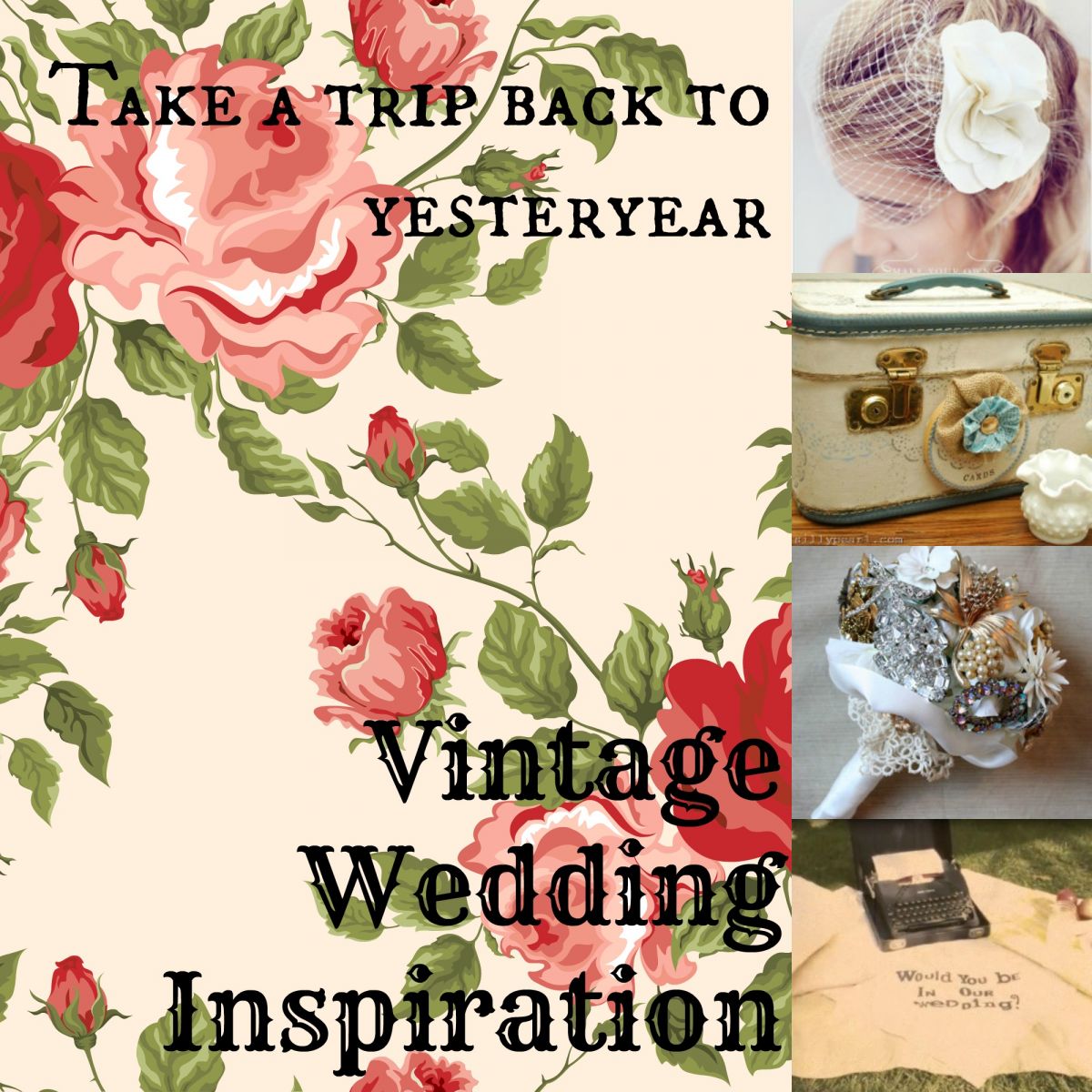 Whether you're going for classic vintage or quirky vintage, AllFreeDIYWeddings has everything you need to complete the look. Wedding themes can be difficult to choose, but we present it all on a platter, making the process easier. Explore these vintage wedding ideas to see if the theme interests you, and if it doesn't, surely one of our other wedding themes will. Remember, a vintage wedding can be based on any decade between the 30s and the 80s or can combine aspects from multiple periods, which means that no vintage wedding will be alike. Find which vintage era speaks to you. For a more whimsical feel, incorporate film strips, bicycles, and typewriters into your celebration. If you and your fiance are going for a more elegant motif, look to lace, flowers, and fur to achieve it. If you're looking for even older inspiration, check out the stunning antique wedding theme. From veils to lighting, this collection of vintage projects includes DIY wedding tutorials for every detail of your vintage wedding.

With the rise of the hipster trend, offbeat vintage weddings have become more common. These endearing celebrations boast old-timey suitcase card boxes, typewriter-printed invitations, and grandpa's first Schwinn turned wedding decor. One couple took the playful theme to an undeniably amazing place with the Vintage Stop Motion Bridal Party Invitation. If you're feeling ambitious, you too can ask your bridal party to be a part of the big day in this indisputably creative way. The hipster wedding is a truly fun experience for both the couple and the guests, as it takes a trip back in time and visits the highlights of the past.

If you've sworn off hipster-dom but still want to emulate your favorite era of yesteryear, go for the more classic approach. Become Grace Kelly or a character from Mad Men with a glamorous 50s-style wedding or dip into the long gone with a 1930s wedding complete with a bird cage veil. The more lace, pearls, and crystal the more dignified the celebration. Put each bridesmaid in a Mad Men Faux Fur Wrap to tie the entire wedding theme together.
 

Wedding Themes: Vintage Wedding
Table of Contents

Invitations, Stationery, and Free Printable Gift Tags
Other Hipster Wedding Ideas

Homemade Gifts and Invitations
Wedding Ceremony Ideas and Wearables
DIY Wedding Centerpieces and Table Crafts
Wedding Cake and Dessert Table Ideas
Homemade Gifts and Invitations

Whimsical Vintage/ Hipster Wedding
If you and your fiance are fans of the fun, eccentric, and quirky, go vintage in a whimsical way. Suitcases, typewriters, and the prettiest flowers are required to make your celebration truly unique. Don't forget to get plenty of Polaroid pictures so that you will remember the best day of your life.

Invitations, Stationery, and Free Printable Gift Tags

Other Hipster Wedding Ideas

Classic Vintage Wedding


For the more conservative couple, explore the glamorous past to give your wedding a classic vintage vibe. Antique bouquets, birdcage veils, and draping crystal dessert stands will let your guests know that there not in Kansas anymore. There are tons of different directions you can take a classic vintage wedding: Old Hollywood, simple rustic vintage, Grandma's attic, darling countryside, or upscale glam. Find the one that suits you and take a trip to yesteryear.

Homemade Gifts and Invitations

Wedding Ceremony Ideas and Wearables

DIY Wedding Centerpieces and Table Crafts

Wedding Cake and Dessert Table Ideas

Antique Wedding