You can find a tea length wedding dress at most weddings nowadays because it looks modern but still sophisticated. This type of wedding dress is also perfect if you want to showcase your bridal shoes. But what is tea length wedding dresses, are they for you?
Tea length wedding dresses refer to the type of wedding dress where the skirt goes beyond the knees but still above the ankles. This is the perfect length for people who won't want something too short or a wedding dress where the hem touches the ground.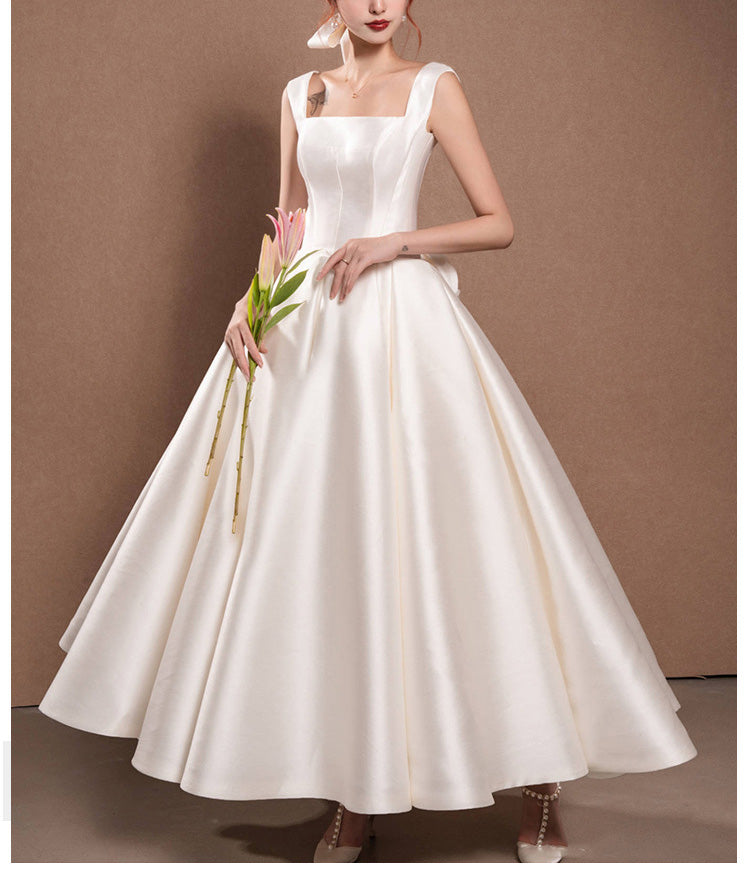 Some wedding dress boutiques offer short tea length has a full skirt like an A-line wedding dress and long tea length wedding dresses that is similar to the ballerina-length wedding dress.
If you're curious why the dress is referred to as tea length, it came from the notion that this specific dress length is what a woman typically wears to a tea table. Actual tea length dresses are about four inches past the knee and are now famous for wedding dresses.
Who are tea length wedding dresses for?
Tea length wedding gowns are perfect both for short and tall brides. First, a tea length wedding dress is still above the ankle, so you still have the illusion of long legs if you have a short height.
Tall brides can also maintain class with tea length wedding dresses and don't risk looking like they're wearing something short for a formal wedding. But besides height, another reason to wear a tea length wedding dress is the type of wedding you have.
Retro weddings are perfect for wearing a tea length wedding dress, and you can even request a voluminous skirt for movement as you walk down the aisle. And since this dress doesn't drag on the ground, you'll be a comfortable bride at a destination or outdoor wedding
Can I Wear A Tea Length Wedding Dress? Overall, tea length wedding dresses suit any body type because they come in different fits and silhouettes. Finally, the tea length wedding dress's material, color, and features should make it versatile for various wedding themes. But it might be disrespectful to wear something that shows the ankle. Please always ask the place of the ceremony and the officiant regarding your bridal outfit restrictions. The appropriate wedding dress length for the bride will depend on the type of wedding. For example, most religious and conservative weddings, especially those ceremonies held in a place of worship, should have brides wearing a floor-length wedding dress.
On the contrary, modern weddings are more tolerant of shorter dresses, especially if they look sophisticated and formal. But, of course, you don't want to look tacky, so you should be mindful of what will fit with the wedding's dress code.