The Indian wedding industry is considered the second largest in the world, second only to that of the US. This sector is on a robust growth spree of about 25-30% annually and is expected to reach a market size of approximately Rs. 45,000 Crore by 2020. Varying factors of a booming economy, an expanding middle-class base, etc. contributed substantially to this growth. On average, Indians spend about one-third of their life's savings in arranging for weddings. It is here that the need to avail of wedding loans from reputed financial institutions. These advances present borrowers with multiple borrower-friendly features and a hefty loan amount that is adequate to arrange for various trending curated weddings. Borrowers can use this end-usage restriction-free advance to financially cover destination weddings, expensive décor, catering, venue booking, etc. without dipping into the savings. 
However, considering the increasing popularity of such advances, multiple lenders now offer wedding loan against property. Borrowers should compare the financial aids and settle upon one that helps them meet their specific financial goals.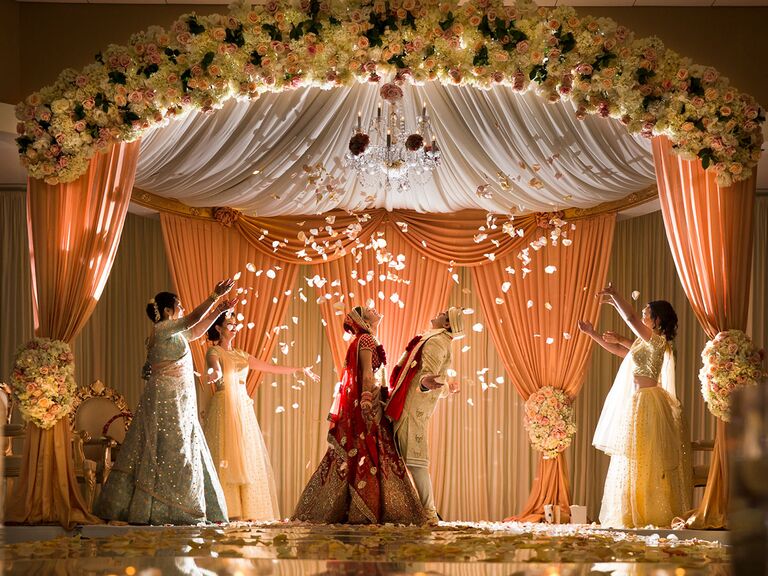 Check out 5 such crucial things that need to be considered before availing a loan against property for marriage –
Look Into Your Required Loan Amount- 


While approaching a lender, apply for an amount that you can repay comfortably. Availing higher amounts will unnecessarily stretch your finances during repayments. Borrowers can also use an EMI calculator to determine the EMIs beforehand and select the loan amount and the tenor according to their repayment capabilities.

It is always advisable to apply for an amount lesser than your eligibility to avail beneficial terms and features. Lenders evaluate the property value when you opt for a marriage loan against property. Under no circumstances, the loan value is more than 85-90% of the property value. Applying for amounts exceeding the LTV will lead to rejections.


Compare The Rate Of Interest Provided By Various Financial Institutions-


Interest rates vary from one lender to the other. Thus, prospective borrowers should compare the terms offered by financial institutions and then settle upon one with a lower rate of interest.

Considering that the rate of interest has a crucial role to play in determining the monthly equated installments, it is imperative to decide between floating interest rates vs fixed interest rate before availing a wedding loan. This helps in defining your pocket-friendly repayment amount. 


Check Out Your Existing Monthly Financial Obligations- 
Availing a wedding loan is a significant financial decision, and hence, one needs to take into consideration their repayment capability. Prospective borrowers should check their monthly financial obligations that also affect their ability to repay the advance. The FOIR should necessarily remain between 30-50%, which ensures convenient repayment.


Look Into The Required Eligibility Criteria- 

Lenders are less stringent about the eligibility criteria necessary, considering that they have the property mortgaged that acts as a reassurance of repayment. In the case of defaults, they can liquidate the asset to recover the outstanding credit amount. 

However, if borrowers avail Loan Against Property for Wedding from reputed NBFCs like Bajaj Finserv, they can have easy access to multiple beneficial features–

~ Easy balance transfer facility.
~ Convenient access to the loan account via a customer portal.
~ High-value loan amount of up to Rs. 1 Crore (salaried borrowers), or Rs. 3.5 Crore (self-employed individuals).
~ A flexible tenor ranging from 2 to 18 or 20 years.
~ Convenient loan approval and hassle-free disbursal of the sanctioned amount.



One can easily meet the simple eligibility criteria for a loan. These are-



Salaried-
- 33 to 58 years of age.
- Indian residents residing in any of the lender-specified cities.
- Working in the public, private sectors or an MNC.

Self-employed
- 25 to 70 years of age.
- Indian residents residing in any one of the lender-specified cities.
- Have a regular source of income.


Such reputed lenders as the one mentioned above also bring you pre-approved offers that streamline the application process to avail such advances. These offers are available on numerous financial products that include both secured advances like home loans, and unsecured advances like personal loans, business credit, etc. You can take a look at your pre-approved offer by providing a few essential details like your name and contact number.


Check The Required Documents To Avail A Loan For Wedding- 


Lenders take into account the convenience of the prospective borrowers and hence, keep the list of required documents to a bare minimum –
Latest salary slip, IT returns (salaried).

Address proof.

Copy of the documents for the property to be mortgaged.

Bank account statement of the previous 3 (salaried), or 6 (self-employed) months.


However, you need many different clothes for wedding based functions. Don't forget to research good options, like designer bridal lehengas under Rs.2 lakh or customized gowns under Rs.80,000.

Availing a marriage loan helps borrowers meet their wedding financial goals. Borrowers need not maintain a high credit score to avail of these financial aids; however, having a high CIBIL score helps one enjoy the best terms and conditions on their financial deals.