"If you carry your childhood along with you, you never become old." Playing in mud with hands coated in wet sand, hiding behind the bushes while playing hide and seek and running in and around those rows of flowers.. Weren't those childhood days just so amazing? 
Re-live your childhood days by celebrating your love in the lap of nature, where you acclaim the sweetest memories. Keep it simple and keep it elegant by tying the knots under the shades of trees! I too personally feel that the wedding extravagances and hi-fi preparations often make the situation uneasy and clumsy. Garden theme wedding will surely make you feel the joy of being the original "You". Here are a few things that will help you in planning a wonderful backyard wedding:

Garden Greens:
Obviously, it's a garden themed wedding, greenery is a must! The small drops of water on the grass and green bushes will be just enough to set anyone's mood on your Big Day, in short get ready for plethora of green backgrounds in your wedding photographs.

Table runners and Table settings: 
Of course you are marrying in a garden; you have a lot of such elements which can be utilized aptly. Deck up the table settings with beautiful flower vines.

Arrangement of flowers in hairs:
Are you thinking you have already done too much of flowers and greenery? If yes, then- You mustn't think that way! You can't (nobody can't) get bored of flowers and nature! The universe has abundance of beauty, thus assuring a great variety for your head piece. Berries, pine cones, peonies, tulips, roses, lilies, etc you have a lot to gussy up your looks.

Floral Swings: 
Wrap up the swings in your garden with the whimsical creepers. Swings are always a great place for the camera focus.

Photo and Invitation Display: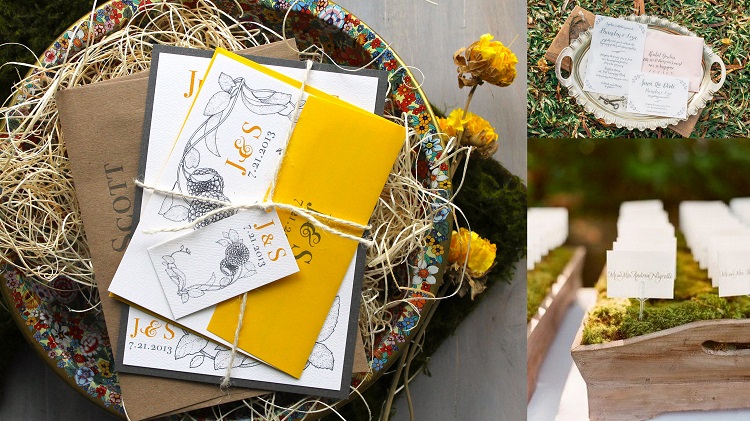 Garlands fabricated with the collection of your favorite pre-wedding photographs or engagement photographs can be hung loose on the trees to create an eye pleasing ambience. You can also Display your Unique Indian Wedding Cards which will create a magic in your Garden themed wedding.
Mason Jars:
Handpick some wild flowers from the backyard and put them inside the mason jars for adding natural finishing touches to the wedding decoration. Present these mason jars either on the dining table or down the aisle.
Photo prop:
Since it's a Garden Themed Wedding; don't miss out the "Bicycle". Again, bunch of "Flowers!" inside the bicycle's basket and get ready for some sensational photographs!
"Easier said than done" Yes, we understand it is difficult to manage all this! Don't you think it would be great if you know how many heads you shall count on the nuptial? A smart idea will be sending RSVP invitation cards to your guests and asking them to report back about their acceptance or denial. Please 
do give proper wordings to your RSVP invitation that shall persuade your guests to reply back as soon 
as possible. 
All the best! Wish you a happy and playful wedding….
About Author:
Mr. Atul Gupta is the co-founder of 123WeddingCards. He is having years of experience in wedding card designing and have expertise in writing wedding card related blogs. His online portal contains latest collection of wedding invites with amazing designs. He is passionate about his services. A genuine wedding columnist with immense writing skills on wedding related topics, his profound ideas have been signature of many weddings all across the world.